Kylie Jenner & Travis Scott Are Having 'Serious Trust Issues'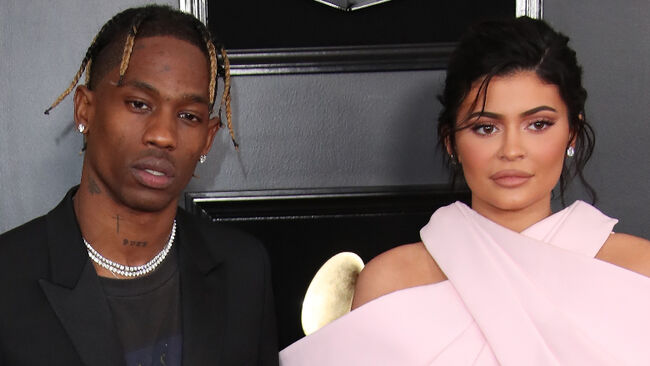 Kylie Jenner and Travis Scott's relationship is not in a good place following cheating allegations.
According to TMZ, the couple hasn't had the chance to fully repair their relationship after Kylie accused the "SICKO MODE" rapper of cheating last month. Sources told the gossip site the two have been in communication since the incident, "but only in spurts." Adding, their relationship "isn't even close to what it used to be," and Kylie has "serious trust issues" with Travis.
What makes it worse is the fact that he's currently on tour, which has made it hard for them to have a "serious sit-down." Not to mention, Kylie's also preparing to launch new products for her cosmetics line. With Kylie's attention focused on her business and the couple's one-year-old daughter, Stormi, the insider said she's made it clear that she "doesn't want Travis to cancel any shows or skip out on commitments to work things out." Instead, the couple is reportedly planning to work on their relationship during Travis' long tour break next month.
Despite their scheduled reconciliation, Travis hasn't stopped making it known that he's fighting for his family. Days after Kylie confronted him for cheating, Travis gave the 21-year-old billionaire a shoutout at the end of his Madison Square Garden Show. And most recently, the 26-year-old rapper wore a Kylie sweatshirt, which featured her face on a polaroid, to the Rockets-Warriors game in Houston, Texas on Wednesday (March 13).
As fans know, late last month, Kylie reportedly found "evidence" of Travis' alleged infidelity. Following her discovery, Travis reportedly postponed his "Astroworld" concert in Buffalo to straighten things out. TMZ claimed that while the "Butterfly Effect" rapper said he couldn't attend the show because of illness, he was actually back home in L.A. trying to get his relationship in order.
Photo: Getty Images